---
Hall of Fame
– Chicago Coin Club –
Member 14
Carl Wolf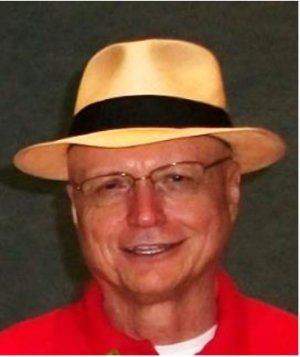 Mr. Carl Wolf, life member #904 of the Chicago Coin Club, is inducted into our Hall of Fame as the first living member. We are grateful for his service. Mr. Wolf is renowned for his enthusiastic and tireless support of the Chicago Coin Club (CCC), encouragement of young numismatists, and his stylish and signature chapeau. Mr. Wolf (born August 19, 1947) began his life on a dairy farm in Fulda, Minnesota. He later matriculated through the University of Minnesota with a degree in mathematics. His career began at F. W. Woolworth Co. in Minneapolis and later with Control Data Corporation. He was offered a promotion and transferred to Chicago in 1974. There, he met Jennie Sochon. They worked for different companies but on the same floor in 430 N. Michigan Ave. It was his first day at the Chicago office and her company's first day at their new location. They were married in Chicago in 1977. A merger and sale of Mr. Wolf's department was the inspiration to launch Carl Wolf & Co. in 1981, which continues to present. His business branched out from computer forms to marketing and awards, a good fit for his creativity.
Mr. Wolf's interest in Numismatics began when a friend, Vic Miller, introduced him to Whitman folders. This is the spark that ignited his lifelong interest in history and love of research. Joining the CCC in 1979, Mr. Wolf immediately committed his talents to the club by serving as Secretary & Treasurer from 1979 through 1984. For his service he received the CCC Medal of Merit in 1981. The year 1985 was a milestone for the club. In September of that year the club celebrated its 800th consecutive meeting, and for that event Mr. Wolf co-authored The History of the Chicago Coin Club with his wife Jennie Sochon. The work was published in Perspectives in Numismatics, and remains as the seminal work on the history of the CCC. Following his tenure as Secretary and Treasurer, he served as Club Archivist from 1985 to 1990.
Concurrent with his service to the CCC, Mr. Wolf is active in the American Numismatic Association (ANA). He conducted the Numismatic Theatre at the 1984 ANA convention in Detroit Michigan, presenting 22 programs. This featured some of the best know numismatic personalities, including Director of the Bureau of Engraving and Printing, Robert J. Leuver, and the Director of the Mint, Donna Pope. The ANA Centennial notes that Mr. Wolf furnished a five-star non-stop educational program given every hour. This service to the ANA was repeated again in 1986, and by 1987 ANA Director of Education, Ken Bresset, noted that, "The Numismatic Theater, presented at each ANA anniversary convention, attracts an ever-increasing audience under the capable guidance of ANA member Carl Wolf." In that same year, ANA president Stephen Taylor commended Mr. Wolf on the quality of his service. He received the Krause Numismatic Ambassador Award in 1987. His guide for numismatic speakers – available on the Newman Numismatic Portal – remains a viable reference today.
Carl Wolf has continued to support the ANA as a convention volunteer. In recognition of his effort, the ANA has awarded Mr. Wolf the Glen Smedley award in 1989, Presidential Award in 2013, and Medal of Merit in 2015. His service to the CCC has never wavered, serving as 2nd VP, 1st VP from 1997 to 1999, and President from 1999 to 2002. As President, he served on the committee presiding over the club's 1000th meeting celebration held April 6, 2002 in conjunction with the Chicago International Coin Fair (CICF) held in Rosemont. Mr. Wolf continued service on the Board of Directors from 2003 to 2012. In 2007 he was awarded the Chicago Coin Club Lifetime Achievement Award during a roast in his honor. (Membership is hopeful we are forgiven.) Mr. Wolf has continued to serve the CCC as club Secretary from 2005 to present.
Mr. Wolf is the recipient of the club's Cabeen Award, receiving the Gold in 1982, 1992, 2000, and 2009, with silver and bronze awards in 1980, 1981, 1987, 1999, 2001, 2002, 2003, and 2010. His beautifully framed primitive money has been showcased at numerous meetings. He is currently serving as President of the International Primitive Money Society.
Thank you, Mr. Wolf, for your service to numismatics and our club.
---
Page history: created on 24-Dec-2020; last updated on 27-May-2022.
---