---
Hall of Fame
– Chicago Coin Club –
Member 13
Alden Scott Boyer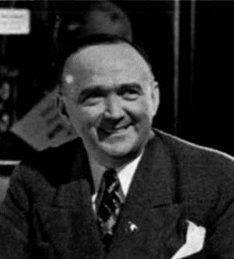 In 1919 ANA Branch No. 1 was revived as the Chicago Coin Club. The Vice President of Branch No. 1, Alden Scott Boyer, was re-elected to that position in the new club. As a charter member of the new club he became member number 7 and that same year was elected president of the Chicago Coin Club. He held office from 1919 to 1927, helping establish firm roots for the revived club.
Born in Cresco, Iowa in 1887, Mr. Boyer graduated from the Northwestern School of Pharmacy in 1908. In 1912 he incorporated the Boyer Chemical Laboratory Company, specializing in chemical products, perfumes, and cosmetics. In 1923 he set up a French cosmetic division, The Society Perfumer, in Paris. During the 1920s the Club frequently met at the Boyer Building at 2700 South Wabash Avenue in Chicago.
In addition to his service with the Chicago Coin Club, Alden Boyer was life member number 14 of the ANA. He served as general secretary of the ANA in 1921 to 1922, vice president 1925 to 1930, and as the 18th ANA President from August 26, 1932, to August 31, 1933.
Mr. Boyer's interest in numismatics started with the study and collecting of revolutionary period currency. This interest evolved to include encased postage, fractional and large specie currencies, and finally concentrated on classical Greek ancients. He had two major collections. First, was his collection of colonial money that went to the Ludger Gravel Museum in Montreal. The second was a collection of paper money, sold by B. Max Mehl in 1928. A portion of Mr. Boyer's collection was stolen from his office at Boyer Chemical Laboratory Co. on North Clark Street on October 18, 1920. Thieves rifled through one of his three safes there, taking bank notes from his collection. After Mr. Boyer's death, his library was sold at auction by Hanzel Galleries in Chicago February 23, 1954.
Mr. Boyer was a prolific collector beyond coins. Starting with baby ribbons, advertising and picture postcards, and tobacco tags in childhood, he also collected perfume bottles, automatic coin devices, automatic pianos, and stamps. Mr. Boyer purchased a bank building in Chicago to house the Boyer Museum of American Curiosities. In 1938 he also formed the Chicago Coin Device Museum, housed in the Boyer Building, which featured coin operated entertainment devices. Around the same time, he commenced assembling an important collection of historical photographs and books on photography.
For 41 years Mr. Boyer was accompanied in these collecting activities by his wife Marie, whose interests included perfumes, daguerreotypes and laces. This collecting team was sadly broken by her death on May 1, 1950. Mr. Boyer later remarried Elizabeth Marie Johnson.
At the Chicago Coin Club's 1951 banquet, Mr. Boyer entertained the members with his speech on what he collected and how, as his many hobbies grew, a warehouse was used to store these items.
Alden Boyer had no children and donated his collection of photographs to the George Eastman House in Rochester, New York in 1950, where it can still be viewed. He was president of the Boyer Museum for the Preservation of American Antiquities from 1935 until his death on June 16, 1953. The September 1953 edition of The Numismatist paid tribute to him by noting, "Alden Scott Boyer can no longer take an active part in future collecting activities, but what he accomplished in his active years will be felt and appreciated by those who may strive to fill the tremendous void that his passing has made obvious."
(Image courtesy https://www.rickcrandall.net/ )
---
Page history: created on 24-Dec-2020; last updated on 27-May-2022.
---