---
Hall of Fame
– Chicago Coin Club –
Member 10
Arlie R. Slabaugh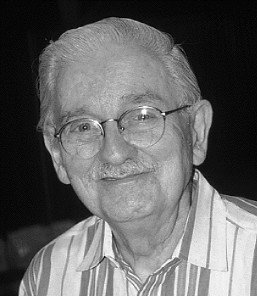 Arlie R. Slabaugh was appointed Assistant Editor of the Numismatic Scrapbook in April 1954 and moved to the Chicago area from Artie, "among the West Virginia hills." The next month, on May 14, he joined the Chicago Coin Club as member No. 619. A frequent exhibitor of wartime currency and unusual numismatic items, he was recognized for one of the best exhibits at the Club's 1954 annual banquet. At the December 1956 meeting, he read an original poem, "A Christmas Phone Message," asking Santa to bring all the members of the club the items they wanted. He received the Club's Literary Award in 1961 and 1965; its highest honor, the Medal of Merit, was presented to him in 1966.
Mr. Slabaugh (April 26, 1925 - September 26, 2007) began collecting as a schoolboy; at 13 he sent 10 cents to a dealer for a banknote and foreign coin, and soon had an interest in numismatics so "serious" that he founded his own magazine, The Hobby Spotlite, then just a single page with limited circulation but later a printed, national publication. He joined the ANA at 16, but on January 22, 1942 was stricken with "mastoiditis" and hospitalized for three weeks, leaving him completely deaf, but he learned to read lips and continued to speak. At the West Virginia School for the Deaf he studied journalism and printing, though this scarcely interrupted his writing and publishing. By 1948 he was the first full-time dealer in world paper money in the United States, but was "glad to receive a regular pay check" from the Numismatic Scrapbook. Here he excelled until lured away by the Franklin Mint in Pennsylvania in 1967 as Director of Numismatic Information, remaining with them until 1985.
His first book (40 p.), The German Inflation, self-published in 1947, was reprinted from the Numismatic Scrapbook, 1945-46. But his most lasting contribution was Confederate States Paper Money, published by Whitman in 1958; an eleventh edition was released in 2008 under a modified title. On other wartime emergency monies, he wrote Encased Postage Stamps, U.S. and Foreign (1967), Japanese Invasion Money (1963, fifth ed. 1977), and Prisoner of War Monies and Medals (1965, second ed. 1969). Other longer works covered U.S. commemorative coins, small size National Bank Notes, and several exonumia categories. Besides these booklets, he contributed scores of articles to the Numismatic Scrapbook, The Numismatist, the TAMS Journal, and Paper Money.
A charter member of the Token and Medal Society, he was an assistant editor of the TAMS Journal and received their Medal of Merit in 1967; he served as President 1978-1980. The Society of Paper Money Collectors presented him with its Nathan Gold Memorial Award for lifetime achievement in 1963. The Numismatic Literary Guild honored him with their highest award, the Clemy, in 1981. He was voted a Numismatic Ambassador in 1989. And from the ANA, Mr. Slabaugh received a Heath Literary Award in 1948; two B.P. Wright Exhibit Awards, 1965 and 1966; the Medal of Merit, 1991; the Glenn Smedley Memorial Award and a President's Award, both in 1997; and the Lifetime Achievement Award, 2004.
Although deaf and with limited education, he cheerfully overcame these difficulties and pioneered the study of many exonumia and synographic areas, combining historical and technical accuracy with a matter-of-fact, folksy writing style. His genius was such that, while typesetting on a linotype machine at the Numismatic Scrapbook, he could anticipate what space would remain after the article and compose a short item to fill it before he reached the bottom of the page.
(Image courtesy of Numismatic News.)
---
Page history: created on 19-Sep-2019; last updated on 19-Sep-2019.
---