Chatter
---
---
---
Minutes of the 1065th Meeting
The 1065th meeting of the Chicago Coin Club was held September 12, 2007 at Dearborn Center, 131 S. Dearborn, Downtown Chicago. President Robert Feiler called the meeting to order at 7 PM with 17 members and 2 guests in attendance. Guests were Barbara Ciechna and Pete Mlot.
The August Minutes published in the Chatter were approved as printed. The Secretary read correspondence from collectors in India and London. Treasurer Steve Zitowsky's report of September income $736.00, expenses $233.48 and total assets of $11,620.29 was approved as reported.
First V.P. Jeff Rosinia introduced the evening's featured speaker, Dennis Ciechna who gave a program National Banknotes & Memorabilia from the Lawndale National Bank. Following a question and answer period Jeff presented Dennis with an ANA Educational Certificate and an engraved Club medal.
Second V.P. Lyle Daly directed the exhibiting portion of the meeting. Exhibitors were: DON DOOL — a wooden double eagle from Strowger Coin Club (Northlake, IL) with associated information, medal commemorating the 1927 inauguration of San Martin bust at Zapala and an 1834 pattern or test strike Chilean un peso in copper; DAVID G GUMM — U.S. large cents 1820/19 and 1825; ROBERT FEILER — an 1855 U.S. $3.00 gold coin converted into a pin, 9 pence and 4 shilling currency from 1777 Pennsylvania; MARK WIECLAW — a small tobacco grinder made to look like a roll of Eisenhower dollars, ancient coins from Bactria, Metapontum and Tarentum; ROBERT LEONARD — the book The Case for Gold by U.S. Rep. Ron Paul and Lewis Lehrman and a $20 "Liberty Dollar" with Paul's bust; STEVE ZITOWSKY — 1925 Norse American Centennial Medal and 1833 Liberian 1-cent of American Colonization Society; DAVID SIMPSON — 1811 20-pence Fleet Bank in England note; STEVE AMBOS — 1817 Pillar dollar and 1835 East India Co. 1/12 anna; ANDY PLIOPLYS — recovered 12th century silver grivna lost last year; LYLE DALY — 2 Byzantine folles and national banknote from First National Bank of Oak Park.
It was announced that the Club's current meeting room is scheduled for reconstruction. Following a report by several members who visited the meeting facilities at the Chicago Bar Association, a motion was passed to move the October and November meetings to this new location at a cost of $90 per meeting. The CBA is located at 321 S. Plymouth Court and the 3rd floor meeting room name is Katten Muchin Koseman. To the immediate south of the CBA building is the Plymouth Restaurant with standard sandwiches, burgers and salads for members who want to meet for dinner. And immediately to the south of the restaurant is a parking ramp with a $12.00 evening rate.
It was announced that the Central States Numismatic Society and the Chicago International Coin Fair will hold 2008 coin shows in Rosemont on succeeding weekends of April 16-19 and April 24-27. More information concerning the December banquet at Marcello's Restaurant will be available in October.
The meeting was adjourned at 8:45 PM.
Sincerely Submitted,
Carl F. Wolf, Secretary
---
Speaker's Wor[l]d
Ignatius T. Kopicki, The Lawndale National Bank of Chicago, and Me
by Dennis Ciechna
presented to our September 12, 2007 meeting
I.T. was born January 31, 1903 in Chicago and went to work for The Lawndale National Bank in 1925. It was around time that he met my paternal grandfather James A. Ciechna (B.1891). My grandfather was in the insurance and real estate business and he banked at Lawndale National Bank and that tradition was carried down to my dad, Gregory (B.1916), and to me. I have had a checking account at LNB since 1960. My mother told me she went to the bank when she was pregnant with me. This story was also given to me by my grandmother Ella who knew I.T. from the early days as well. My grandmother worked for my grandfather and knew the bank well. I was introduced to him as Mr. Kopicki, but as I got older, he told me "my friends call me I.T." Until his death his many friends called him I.T.
I.T. Kopicki was very active in the numismatic community and held a membership in a number of local and national organizations.
American Numismatic Association:
He joined the ANA on Feb 1, 1925 with number #2788 and was sponsored by James T. Kelley, a Dayton, Ohio dealer, and George F. Brown. He listed his occupation back then as a "bank clerk" with Lawndale National Bank. He was National Coin Week Chairman in 1955 and used Coin Week to showcase his collection in the bank. He would put up 10-15 cases of material, both coin and paper, and the armed bank guards kept a close eye on the collection. I spent some time after the bank closed helping him set up and take down. It was a very interesting task for a young kid such as my self.
Central States Numismatic Society:
I.T. was Secretary pro-tem in 1939, President in 1942-1947 and Medal of Merit Recipient in 1957.
Chicago Coin Club:
He was President 1947-1948, Secretary 1939-1941 and again in 1961. He was the Medal of Merit Recipient in 1956 and was awarded the Literary Award in 1963.
Society of Paper Money Collectors:
According to Bob Cochran, the May/June 2007 Paper Money magazine has a picture of IT Kopicki, as well as one of him and R. Edward Davis. These pictures and facts were researched by Tim Kyzivat and I acknowledge their contribution to this paper. In this issue was a picture of a 1902 $5, $5, $5, $5 uncut sheet signed by I.T. Kopicki that had surfaced in the early 1970s. Apparently the Assistant Cashiers of the bank were given the opportunity to sign the 1902 series notes of the bank as "souvenirs" because other sheets feature different "Assistant Cashiers."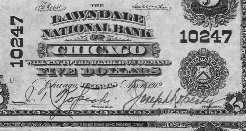 The notes that were shown (courtesy of Heritage Auctions) with Mr Kopicki's signature included a sheet of $5s which brought $8625 at a recent Heritage FUN Auction. Bob Cochran was never able to find a photograph of Mr. Kopicki — none had previously appeared in the pages of Paper Money. But thanks to some great detective work by Tim Kyzivat — who himself served as SPMC Treasurer — we can finally look at the image of the ONLY member of the Society of Paper Money Collectors who signed large size National Currency.
The photograph Tim found pictured IT with another prominent Chicago area collector, who also made solid contributions to the study of paper money. He was Dr. R. Edward Davis, who wrote "Early Illinois Paper Money" which appeared in the Numismatic Scrapbook Magazine. It was reprinted in booklet form and contains a "Check List of Early Illinois Paper Money" compiled by D.C. Wismer and Lee F. Hewitt.
I have spoken to Bob Cochran and Tim Kyzivat and thank them for their help in this paper. I do though have some additions to Bob's article. As I mentioned before, I spent many week nights and Saturdays looking at coins in the old drive thru window room and along side the cashiers when they counted the coins and paper money. I had a paper route in the early days and delivered the Chicago Tribune, Daily News, Herald American and several Polish and Bohemian newspapers. The proceeds from this job were put into coins and school; coins being in first place. The local papers were the Dziennik Chicagoski (The Polish Daily News), the Denní Hlasatel (Daily Bohemian Herald), and The Svornost. From 1929 to 1930, more than 30 Chicago banks went out of business. In addition, more than 100 banks sought to strengthen themselves through mergers. In 1931, the collapse of Sam Insull-related securities spread through the banking community, with runs forcing 25 banks to close in a matter of days. Research has suggested that most of the failures between 1930 and 1933 resulted more from weakening portfolios related to government securities they held than to declining real-estate prices that might indicate poor management of mortgage lending.
One of the reasons I think that allowed the Lawndale Bank to remain open was the help provided them by Tony "Pushcart" Cermak. He was born Anton Josef Cermak on May 9, 1893 in Kladno, Czech Republic; he received that nickname while working in the Chicago stock yards, but I doubt many called him that later in life. He was President of the Cook County Board from 1922-1931, Mayor of Chicago April 7, 1931 to March 1933 and was said to have amassed a $7 million fortune due mainly from shrewd real estate investments. He and the Cook County Board had money at LNB and kept it afloat during the hard times. This info came from my grandmother; she always told me what a kind man Tony was. He was shot on February 15th in Miami, Florida and died three weeks later on March 8, 1933; the assassin was possibly linked to Al Capone. Cermak was shot while at a political affair with President Roosevelt. Cermak Road in Chicago was so named to honor the only foreign born mayor of Chicago.
I.T. died in September of 1970 leaving behind his wife Pearl and his father. Pearl remained active in the clubs until her death in 1992 or so. The article in Paper Money alludes to the notes being signed in the 1970s, but IT was gone by then. It is my first hand knowledge that the remaining unsigned notes were signed in the mid to late 1960s, and kept in the vault as "cash on hand." These notes were sold when the second or third set of owners learned of their value. The original owners of the bank were Rudolph Hajicek, Frans Hajicek, Joseph Salar and Joseph Kopecky. The early notes are mostly signed by Hajicek/Salar; my guess is they were signed when the bank opened in 1912. Anthony Kopecky, Riverside, was the son of Joseph Kopecky, whose signature is on some of the bills alongside I.T. Kopicki's. Tony Kopecky was also an owner of the bank and a contemporary of I.T. Kopicki.
The bank has been known by other names during it lifetime: The Lawndale Trust and Savings Bank (1973 Urban P. Meyers, President), Lawndale Little Village, and now TCF BANK.
National Bank Notes
National Bank notes were issued from 1863 to 1929 by about 14000 banks in the US and its territories. There were three charter periods and the last bank to receive a charter was number 14320.
The LNB was chartered in August 1912 and given the Charter number 10247. This means the bank was created in the third charter period. The bank originally issued large sized sheets of "Date Back 1902-1908" National Bank Notes in $5,-$5,-$5,-$5 and then sheets of Date Back notes in $10,-$10,-$10,-$20. Additional $5 notes were printed with "Plain Back" design. In 1929, large size notes were discontinued and the small size notes we have today came into existence.
Don Kelly's June 2007 reference work lists a total of 217 notes on this bank; there are 83 large size and 134 small size notes. This is a close number but some of what you will see today are not in Don's census. There are three $5 1902 Date Back large size notes recorded from the bank and you will see two of them today.
There are a total of four serial #1 notes and you will see two of them today. There are 12 large size and 9 small size sheets in Don Kelly's census; some of the sheets you will see here today are not listed in that census.
Acknowledgements
In closing, I would like to thank the following individuals: My wife Barbara for putting up with me for *** years, Ignatius T. Kopicki, Tony Kopecky, Charlie Knippen, Ed Stacey, Mort Mallis, Fred and Doris Bart, Harry Jones, Art Kagin, Chester Poderski, Cliff Mishler, Arlie Slabaugh, J Henri Ripstra, Fred Catalano, Glenn Smedley, Mike Powell, Ben Drieske, Tommy Ryan, Bob Cochran, Jim Grebinger, Lee Hewitt, Anna Schendorff, Kevin and Sharon Blocker, David Kelman, Irv and Mary Jones, Lyn Knight, Len Glazer, Allen Mincho, Steve Roach, Fred Schwan, Dr. Richard Doty, Barbara Gregory, Robert Hoge, Don Kelly, Gene Hessler, Dave Muschiatti, Rocio Rodriguez, and Pete Mlot.
---
Current Advertisers
---
Show and Tell
Items shown at our September 12, 2007 meeting.
Don Dool introduced his first item by showing his 1962 lesson book Fundamentals of Telephony and pointing out 1891 patent pictures for the Strowger switch; customer-dialed phone calls were made possible with this switch manufactured by the Automatic Electric Company of Northlake, Illinois.

A recently acquired wooden double eagle from the Strowger Coin Club at that company, honoring its centennial meeting on September 8, 1970.
A San Martin medal acquired on eBay from a dealer in Southern Argentina. The medal, for the inauguration of a bust in Zapala on 25 May 1927, is not listed in catalogs.
From an Argentine dealer, an 1834 un peso Santiago weakly struck on a thin copper planchet instead of the usual silver. Don ventured that since the first copper coins for Chile were struck in 1835, these are possible trial strikes.

David Gumm showed some recently acquired large cents:

An 1825 N1 variety, acquired at ANA, slabbed by PCGS as XF40 but possibly an EAC 30.
An 1820/19 N1 variety, acquired at ILNA, sharply struck and grading VF20.

Bob Feiler did not attend ANA, but did attend ILNA where he acquired odd denomination pieces:

A nine pence Pennsylvania note from the April 10, 1777 series.
A four shilling Pennsylvania note from the same series, with the "To Counterfeit is Death" reverse by John Dunlap.
From Harlan Berk's on the way to the meeting, a VF 1855 $3 gold piece with a pin soldered on the reverse.

Mark Wieclaw showed a range of of items:

Mark thought he saw a stack of Eisenhower dollars while standing in line at a gas station, but it was a tobacco grinder with a metal cover stamped with a rough approximation of the original design.
A square Bactrian bronze coin (145-135 BC) with a bust of Zeus on obverse and two palm branches on reverse.
A silver stater from Metapontum with an ear of grain on the obverse and the same motif incuse on the reverse.
A silver stater of Tarentum; the obverse shows Taros on a dolphin while holding a cuttlefish, and the reverse bears a hippocamp.

Bob Leonard started by showing the 1982 book The Case for Gold by Representative Ron Paul and Lewis Lehrman; it argues for the gold standard and it mentions Bechtler's gold coinage. The Liberty Dollar people had a table at ANA where they were selling Ron Paul "dollars" in proof: the gold for $1000, the silver for $20, and the copper for $1; Bob showed us his silver piece.
Steve Zitowsky showed three disparate items acquired at ANA:

A 1925 Norse American Centennial medal, bearing the monogram of the designer James Earle Fraser.
A 1944 1/9 klippe taler of Salzburg; some luster is apparent.
An 1833 one cent pice for Liberia, from the American Colonization Society; its plan was to settle freed American slaves in Africa. Steve reviewed some attribution points used to identify the varieties: the ship's size, the number of rays, and the number of palm leaves.

David Simpson showed a very ratty looking British 20 pence note from May, 1811. At first glance it is a 20 pound note from the "Bank of England," but a close inspection shows it to be a 20 pence note from the "Fleet Bank in England" with word Fleet small enough to fit inside a corner loop of the B in Bank. Dave had this note for many years without finding any information on it — until an Internet search took him to a trial record detailed at the Procedings of the Old Bailey, 1811. We were tickled by such notable lines as the defence, "I picked the note up from dung!" and the sentence, "Six months in Newgate."
Steven Ambos showed some nineteenth century pieces:

An 1817 pillar dollar (8 reales) from the Mexico mint with J.J. as the assayer. It is scratched, possibly to verify that it was not silver plated copper.
An 1835 1/12 anna of the East India Company.

Two years ago, Andy Plioplys showed a collection of 12th century silver ingots (grivna)to our club. During December, 2005 he noticd that one was missing from his locked display case at home; someone had taken the second largest ingot and moved the remainder around. After examining the case, Andy determined that a sliding glass door could be lifted out, independent of the lock! He sent alerts to dealers, but nothing surfaced. A year later his wife, while vacationing in San Diego, visited an antique store and saw a similar piece.; the price was low, so she bought it. It matches photos of the stolen piece!
Lyle Daly showed a range of items:

New $1 notes with signature of Secretary of the Treasury Henry M. Paulson Jr.; series 2006.
A bronze follis of Basil II from Constantinople; no details on the face of Christ are seen, as is typical.
A bronze follis of Michael IV from Constantinople with the same lack of facial details.
A large size $5 plain back note, featuring Benjamin Harrison on the face and the Pilgrims at Plymouth Rock on the back, from the First National Bank of Oak Park (charter number 11507). A newspaper article from Saturday, September 25, 1920 is about the new bank building, includes photos of the bank, and lists the bank's officers. Lyle concluded with a recent photo of the building, now used as an office building, with a "Soap Opera Village" next to it.
---
CHESTER P. PODERSKI
1914-2007
Chester Poderski peacefully passed away in his sleep the morning of September 17, 2007 following several months of home hospice care.

Chet was born July 4, 1914 and graduated from Fenger High School. He lived most of his life in Chicago's West Pullman neighborhood. Chet built a home for his parents and cared for his mother until she passed away in 1987. Chet owned a restaurant then a tavern and liquor store on 120th Street. He also worked part-time in the family barber shop with his brother, Matthew. When Matthew suffered a series of debilitating strokes, Chet took over the business until it was sold. For the next 25-years Chet helped care for Matthew and his family. Chet officially retired in 1949 at 36-years of age, but he never stopped working.

Chet collected stamps when the counselor of his high school's stamp club encouraged him to try coin collecting. He looked through the coins taken in at his father's barber shop and was soon hooked. Chet enjoyed the sights every Sunday at the 1933-34 Chicago's Century of Progress Exposition and budgeted $10.00 for every visit to buy medals, tokens and philatelic souvenirs.

Chet joined the Chicago Coin Club in 1956, became member 664 and was sponsored by Martin Vink. Chet ran a small bourse table at the Club meetings. Many members bought from his wide variety of sale items. Chet particularly enjoyed the give-and-take when negotiating a price. Chet served as a Director on the Club's Board of Governors and was a source for sound business advice. At Club special events, Chet was a frequent sponsor. For more than 20-years, Chet served as the auctioneer at the Club's annual auction. Between lots he entertained everyone with jokes often times laced with numismatic puns. His exhibits were often unusual and several times he received an honorable mention award. In 1970 Chet was the recipient of the Club's Medal of Merit.

Always the consummate dealmaker, Chet bid, albeit unsuccessfully, for the 1804 U.S. silver dollar at Chicago's 1956 American Numismatic Association Convention. Chet grew close to J. Henri Ripstra, a Charter member, and frequently gave him a ride home after club meetings. Chet credited Ripstra with educating him to the many facets of numismatics. It was no surprise when Chet came away with numerous items from Ripstra's estate auction in Fort Wayne, Indiana.

Chet held membership in numerous clubs and social organizations in Chicago's south suburbs and northern Indiana. Funeral service and visitation was at the Thornridge Funeral Home, Dolton. Entombment was at Skyline Memorial Park in Monee, IL. He was preceded in death by his wife, Helen, his parents and brother, Matthew.

Carl Wolf
---
Call for Club Auction Lots
November 14, 2007
The club auction is scheduled for 7PM, at the start of the regular November club meeting. In the past few years, club related material (and Chicago area numismatic items) have had the best results. Some printed material also has shown good results. Please consider using the club auction to dispose of the numismatic items you no longer need.
You can place a reserve on each lot, and there is no commission charged to either the buyer or seller. Auction lot viewing will be held before the meeting starts, and again briefly before the auction starts.
The November Chatter will contain a list of all auction lots that are known to us by Tuesday, October 30. You can either e-mail your list to Paul Hybert by Tuesday, October 30 if you plan to bring your lots with you to the November meeting; or you can ship your items to Bill Burd by Tuesday, October 30.
Bill Burd
CCC-A Dept.
Chicago Coin Company
6455 W. Archer Ave.
Chicago, IL 60638
chicagocoin@att.net
Paul Hybert
312-791-9001, evenings
prhybert@att.net
If you have questions, Bill can be reached at 773-586-7666.
---
Our 1066th Meeting
Date:
October 10, 2007
Time:
7:00 PM
Location:
Downtown Chicago
NEW LOCATION !!!!
At the Chicago Bar Association, 321 S. Plymouth Court, 3rd floor meeting room. Please remember the security measures at our meeting building: everyone must show their photo-ID and register at the guard's desk. To the immediate south of the CBA building is the Plymouth Restaurant with standard sandwiches, burgers and salads for members who want to meet for dinner.
Featured speaker:
Stuart Kleven - Pre-Coinage Currency and Ancient Scale Weights

The presentation addresses the development of weight standards that lead to the use of coinage. Weight standards take on many forms and many different materials. Numerous photos of different weights will be shown. The relationship of weights to commerce and trade will be reviewed.
---
Important Dates
| | | |
| --- | --- | --- |
| October | 10 | CCC Meeting - Featured Speaker - Stuart Kleven on Pre-Coinage Currency and Ancient Scale Weights |
| November | 14 | CCC Meeting - Club Auction - no featured speaker |
| December | 12 | CCC Meeting - Annual Banquet - Featured Speaker - to be announced |
---
Birthday and Year Joined
| | | | |
| --- | --- | --- | --- |
| November | 2 | Alexander Basok | 1998 |
| November | 3 | John Riley | 2004 |
| November | 5 | Phyllis Johnson | 1987 |
| November | 8 | Brian A. Heil | 1981 |
| November | 9 | Eric Schmidt | 2007 |
| November | 24 | Jeffrey F. Bernberg | 1975 |
| November | 26 | Robert Slobins | 2007 |
| November | 27 | Robert Feiler | 1994 |
---
Chatter Matter
All correspondence pertaining to Club matters should be addressed to the Secretary and mailed to:

CHICAGO COIN CLUB
P.O. Box 2301
CHICAGO, IL 60690
http://www.ChicagoCoinClub.org/
Club Officers
Robert Feiler
- President
Jeff Rosinia
- First Vice President
Lyle Daly
- Second Vice President
William Burd
- Archivist
Directors:
Eugene Freeman
Elliot Krieter
Carl Wolf
Mark Wieclaw
Other positions held are:
Carl Wolf
- Secretary
Steve Zitowsky
- Treasurer
Paul Hybert
- Chatter Editor
---
Contacting Your Editor / Chatter Delivery Option
chatter_editor@yahoo.com
The print version of the Chatter is simply a printout of the Chatter web page, with a little cutting and pasting to fill out each print page. The web page is available before the Chatter is mailed.
If you would like to receive an email link to the latest issue instead of a mailed print copy send an email to chatter_editor@yahoo.com. You can resume receiving a mailed print copy at any time, just by sending another email.
---