Chatter
archive also available
---
Chicago Coin Club
Volume 49 No. 9
September 2003
---
Editor's Notes
Here is a reminder that the members' auction will be held on November 12. The next issue will give many details, but now is the time to think about making consignments. Due to the varied interests of the members, and realizing that at least two bidders are needed to make an auction, some items do better than others. In the past, items generating the most interest were either related to our club or the Chicago area. Again this year, Bill Burd of Chicago Coin Company has agreed to receive items from members unable to attend the meeting. Please send me a list of items as soon as possible; those lists received by mid-October will be included in the November Chatter which will be mailed at least one week before the auction.
Paul Hybert, editor
---
Speaker's Wor[l]d
Early Trains on Obsolete Currency
Presented by Michael Metras to our August 13, 2003 meeting.
Using Yonder Comes the Train by Lance Phillips (published by A.S.Barnes and Co in 1956) as a source, Mike showed some drawings and photographs of early trains to set the stage, and then gave a brief history of the start of railroading in the United States. The engine Best Friend pulled the first scheduled passenger train in the U.S. over the rails on Christmas Day, 1830, in Charleston, South Carolina. Made by Col. John Stevens, it was also the first railroad boiler to explode (six months later).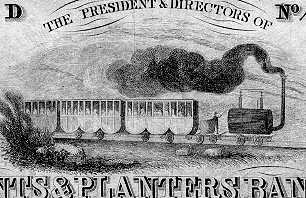 The first note to be shown was an 1838 $100 note of the Merchants & Planters Bank of Chicago; the primitive train appeared to have passenger cars formed by bolting three stage coach carriages to a flat car, and the engine's operator did not even have a place to sit down. But realize that 1838 was only two years after Chicago had been incorporated, and some years before an actual train would operate out of Chicago; the combination of artistic license and the rapidly evolving concept of a railroad engine gave rise to many representations of a train, both in the popular press and on currency. (Also, some early railways operated without steam power, using horses or mules to pull cars.)
Mike next showed pictures of a number of real trains. On its maiden run in 1831, the DeWitt Clinton burned the umbrellas provided to protect the passengers and then proceeded to burn their clothes. (Instead of using coal, they used wood to make for a hotter fire.) Also in 1831, the York, created by Phineas Davis, went into regular service pulling the York Express 13 miles between Baltimore and Ellicot's Mills at a blazing 13 miles per hour according to its time table. Old Ironsides, a five-ton locomotive, had it first run in November, 1832, on the Philadelphia, Germantown, and Norristown RR; built by Matthias Baldwin, it was the first of 59,000 Baldwins.
Although locomotives by the 1850s had achieved the design we commonly associate with "steam engines," the old designs continued to be used by many issuers. Part of that was due to how notes were produced: travelling salesmen would call on banks and companies, showing them a book of stock design elements; the customers could design their own notes using those vignettes. (That also is why we see the same train vignette on notes from widely separated issuers, issued many years apart.)
As a sidenote, Mike showed a primitive train from the 1830s as pictured on a 1965 stock certificate of the Baltimore and Ohio Railroad. The passenger cars still look like stagecoach cars, and those poor people on the upper level appear to have been cut off at the waist.

The Civil War cut off the South's access to many of its usual printers, so some later vignettes are cruder and more primitive than the earlier ones; the cars on a crude note from Augusta are so poorly aligned that they appear to be derailed. The South's paper shortage gave rise to many examples of notes printed over earlier (u nissued) examples; Mike showed a striking note from the Bank of Chatanooga with the large underlying $20 and $10 denominations in orange appearing on the face of the new note.
The term "Obsolete Currency" refers to the many notes issued by many sources, both private and some local governments. Banks, insurance companies, railroad companies, merchants, and many others put out paper money. Typically, a note would promise to pay the bearer the face amount in "lawful money" when presented. Not unusual was the wording on an 1850 $1 note of The City Bank of Chicago, Penn Yan, New York which was issued in Penn Yan, NY and redeemable in Chicago.
In addition to vignettes featuring a mainly railroad theme, many vignettes include small trains as part of the background of landscapes or citiscapes. Mike checks all vignettes on a note for trains; a number of the displayed notes had multiple railroad vignettes. The representations of the evolving locomotives and cars improved over time; enclosed cabs for the engineer appeared, as did more artistic renderings of trains with Mike showing a number of notes with perspective views of a train coming around a turn. An 1862 ten cent note from Cuyahoga Falls, Ohio is just one example.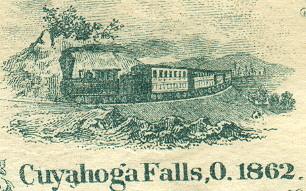 The many, many available obsolete notes provide the modern collector with many possible collecting themes, and many forthcoming exhibits and talks, too.
---
Show and Tell
Each image has a scale in the lower-left corner, with the tics spaced 1 mm apart. Because the brightness and contrast were manipulated on a computer, the coloring of a coin's image differs from the coin's actual coloring.
Mike Metras just returned from a 10 week trip to Spain, where he spent most of that time walking the 465 miles of the St. James Way Pilgrimage. He showed a set of Spain's Euro coins: the 1 and 2 euros show King Juan Carlos, the 10, 20, and 50 centavos show Spanish author Cervantes, and the 1, 2, and 5 centavos show the Cathedral of Santiago de Campostrela, located at the end of the pilgrimage route.
Mark Wieclaw started with a recent coin, then showed three ancient Roman siliqua from the Treveri mint.

Katanga is a southern province of the former Belgian Congo; in 1961, it broke away and issued its own coins: the 1 and 5 franc in bronze, and the 5 franc in gold. Mark showed the gold 5 franc; one side shows a Katanga cross, a local type of primitive money.
The siliqua was a small and thin silver coin, usually found cracked due to being cold struck. The first siliqua was of. Magnus Maximus.

A siliqua of Flavius Victor (son of Magnus Maximus); his only silver coin. On a full flan, neither clipped nor cracked.

Carl Wolf resumed his odd and curious theme with a Swedish 2 daler copper plate money piece; minted in 1750, it was on the Nichobar when she sank, and was salvaged in the late twentieth century.
Lyle Daly saw an Eroded Die Doubled coin described in Coin World, then he found in pocket change a 1988 P Jefferson nickel showing similar characteristics. Next Lyle showed two souvenir glass pieces bought by his grandparents at the 1904 St.Loius Worlds Fair; those pieces started his interest in numismatic souvenirs of that Worlds Fair, and he showed:
In 2000, Bob Leonard wrote the text for our giveaway at CICF; the topic was Civil War Postage Stamp Money, and Bob worked that into a February 2002 article in The Numismatist. When Stamps Were Money won the 2002 NLG Award, and the 2003 Heath Literary Award from ANA; Bob showed the award.
Bob had stopped in Pittsfield, NH in October, 2002 while on a trip. He noticed an historic marker with a numismatic connection; Bob showed a photo of the Fort Wilkins marker which is outside the building where Dr. G.G. Wilkins had his tavern. Then Bob showed four coins (a Large Cent, Flying Eagle Cent, Indian Head Cent, and a silver Three Cent piece) bearing the "G.G. Wilkins" counterstamp, which he used to show how the S failed in the punch.
Bob Feiler showed items acquired at the MidAmerica Coin Expo:

A box medal 2 1/2 inch diameter. The Mozart medal contained 9 sepia toned photos of Salzburg scenes.
A well worn Peace dollar with "1934 KKK" either counterstamped or engraved; the Ks are arranged diagonally.
An attractive 5 colones bill of Costa Rica which was packaged with a $7 bottle of coffee liquer bought while on a trip to Costa Rica.

Don Dool showed items related to Argentina and siege coins:

An English version of Rojas' San Martin, Knight of the Andes; Don was unaware of the existence of this book until two appeared on eBay on the same day.
A copy of Duby's Obsidionales et Nécessité.
A 10 sols from the 1708 siege of Lille; in bad condition.

Bob Weinstein showed three ancient coins:

A follis of Licintius II with a joint reverse type shared by Constantine and Licinius, two victories holding a shield above an altar. After seeing none on eBay in three years, three fully silvered ones appeared.
A siliqua of Constantius II from the Thessalonika mint; the reverse shows victory advancing with a wreath.
A fouree of a siliqua of Gratia. It is amazing to have a copper core inside silver plate in a coin this thin.

While in Las Vegas, Jeff Rosinia heard a different sound while a slot machine was paying out; he showed us the 1935 Washington quarter.
---
2003 ANA Anniversary Convention Reports
Philip J. Carrigan reports:
I attended this yearís ANA Convention and found the experience to be in the upper 20% of positive conventions. Baltimore is a fine convention city and a frequent location of great coin shows in spring, summer and fall.
The Chicago Coin Club was represented at ANA by Steve Huber, Bob Leonard, Charles J. Ricard and myself. Charlie received the Farran Zerbe Memorial Award, the Associationís highest honor. He received this representing his contributions along with those of deceased family members Charles N. Ricard and John C. Lighthouse.
My top-line recollections from the convention include the following:
Seeing five 1913 Liberty 5c, one an altered date and then news of the real 5th coin
Exhibits galore (in contrast to NYC) where space was ample for this important aspect
A Bowers & Merena auction catalog as thick as a phone book (and following the sale of nearly 10,000 lots at pre-ANA auctions
Great Numismatic Theater presentations by known and new speakers
Meeting old friends and new friends, and
Eating nearly my fill of hard-shell crab!
I can think of no better place to find collectors or dealers matching oneís numismatic interests, seeing great coins and developing long term relationships.
Bob Leonard reports:
Without a doubt the 2003 ANA Convention will always be remembered for the reunion of the 1913 Liberty Head nickels -- including the long-lost Walton specimen. At the opening ceremony, two bombshells were dropped: first, that the missing nickel had been found and authenticated, and was actually on display with the other four, and second, that the bar had been raised on this coin from $1 million+ with the sale of Manley's piece for $3 million. I spoke to Mark Borckardt right after the ribbon cutting, and he told me that the Walton piece was authenticated primarily by the edge. Like crime laboratory matching of bullets to guns by microscopic scratches from the barrel, marks from the collar were identical on the two unslabbed genuine specimens available for comparison (probably on the others as well, but they were not cracked out) -- and the same marks were found in the same places on Walton's coin. The experts assured themselves that the date was not altered, and their opinion was unanimous.
Another highlight, though the learned presenters pulled their punches, was the continuation of the 1999 Great Debate (in more subdued form) in a Numismatic Theater presentation on "The Good, The Bad & The Ugly: Western Precious Metal Ingots." Experts Bob Evans, Fred Holabird, and Dave Fitch condemned the Smithsonian's Justh & Hunter gold ingot on grounds that the stamps were incorrect (the same reason given by Ted Buttrey in Chicago four years ago, for this very ingot). They also expressed doubt about the Parsons & Co. ingot, Fred Holabird going so far as to suggest that Parsons was never in the assaying business at all, as he did not advertise as other assayers did, and that his coins are all patterns. Holabird said that they had discovered that all the published material on Parsons could be traced back to an old card file in an archive, which had been copied by writers ever since without verification. Unfortunately, this presentation was marred by poor visuals, started late, and ran later, so there were no questions.
Exhibits were fewer than in prior years, it seemed, and not of the same high quality. Memorable ones included an excellent presentation of Indian trade silver, Hawaiian plantation tokens (inexplicably given a 3rd, out of three exhibits, despite being an absolutely complete set by Red Book types -- the presentation must not have been snazzy enough), and teeth that have served as money (won 1st, but has not been updated since shown many years ago at the Atlanta convention).
Attendance was strong the whole show. There was a good crowd waiting to get in at the ribbon cutting, and long lines Saturday morning. Dealers seemed to be busy. I saw several noncollectors who had brought in coins to sell.
With so much happening at once, I missed most Numismatic Theater presentations, but attended the TAMS Symposium and the International Primitive Money Society meeting. Both were well attended.
Again, I urge Chicago Coin Club members to consider attending an ANA convention. Next year it will be in Pittsburgh. An ANA convention is an unequaled opportunity to locate rare material; besides a few coins and pieces of primitive money, I bought three publications difficult to locate elsewhere. By talking to insiders, you can get a true picture of the hobby, unfiltered by advertising supported numismatic publications. And, it is a lot of fun!
Tom DeLorey reports:
After 29 consecutive ANA conventions, this one in Baltimore was one of the most memorable because of the 1913 Liberty Head nickels. I would have been happy with seeing just the four of them thought to still exist, but thanks in part to Donn Pearlman's excellent publicity for Bower's and Merena's million dollar offer for the missing fifth piece it actually showed up, in the hands of the second-generation heirs of the last known owner, who had been killed in a car accident back in 1962. At that time the original heir had been told by Stack's (who catalogued the rest of the estate) that the piece was an alteration, but thankfully she did not pitch it in the trash.
At the end of the convention, the display which held the five coins was taken out of the exhibit room and into the Security Room, where the ANA's Museum Curator, Larry Lee, let me pick up and examine all five coins. When I finished looking at them, as I left the room my heart was literally pounding. What. A. Rush!
The long-missing piece did have a number of light scratches in the date area, which could explain why Stack's incorrectly condemned it. Later, as a few fellow dealers and I could best reconstruct, we figured that Stack's had nothing to compare it to since they had never handled a piece, no 1913 nickels had ever appeared in an auction catalogue before 1962, and no reference book then in existence carried a picture of the coin. They made an honest mistake, but the family, because they did not sell it for perhaps $20,000 to $25,000 in 1962, could probably sell it for $2,000,000 today. As they say, no harm, no foul.
The show itself was very active, with great attendance and great activity. Coins brought very strong prices. We bought a large gold collection with many C & D-mint pieces just before the show, and I sold most of it there to other dealers at prices I would have hesitated to quote a retail customer a month or two earlier. CC silver dollars, both in and out of GSA holders, were very strong.
For once business at the ANA even lasted the entire week. On Sunday I sold a High Relief that I had bought at the show, for what seemed like too much money at the time, for a $4,000 profit.
Baltimore was, as always, a fun town to have a coin show in. This trip I finally made it out to Fort McHenry, and ate at several places I had never gotten around to before. My only regret was that I never got the chance to ride the tethered balloon that takes you up 550 feet only a few blocks from the harbor. Next time for sure!
---
Our 1017th Meeting
Date:
September 10, 2003
Time:
7:00 PM
Location:
Downtown Chicago
Please remember the security measures at our meeting building: give a club officer the names of all your guests prior to the meeting day; and everyone must show their photo-ID at the security desk.
Featured speaker:
Richard Hamilton - Stock Certificates from Illinois Railroads

The art of scripophily as shown on the stock certificates of Illinois railroads will be highlighted during this presentation. Mr. Hamilton has collected stock certificates for over twenty years and will show and discuss certificates from the Chicago Great Western Railroad, Chicago St. Paul Minneapolis & Omaha Railway, Chicago Rock Island & Pacific Railroad, the Burlington Northern, and the Chicago Burlington & Quincy.
---
Important Dates
September
5-7
CSNS Fall Coin Show & Convention at the Park Place of Countryside Banquet Hall, 6200 Joliet Road, Countryside, IL. Admission is free, and so is parking.
September
6
Educational Sessions at the CSNS Fall Coin Show & Convention at the Park Place of Countryside Banquet Hall, 6200 Joliet Road, Countryside, IL. Admission is free, and so is parking.

| | | | |
| --- | --- | --- | --- |
| 11 | AM | Dale Lukanich | Cut Roman Coinage |
| 12 | Noon | Steve Butler | U.S. Trade Dollars, 1873-1885 |
| 1 | PM | William B. Brandimore | ABC of Collecting Currency |
| 2 | PM | Ray Dillard | History of Elongated Coins |
| 3 | PM | Robert D. Leonard, Jr. | Private Gold Coins of California, 1849-1857 |
| 4 | PM | Orville Grady | Importance of a Numismatic Library |
| 5 | PM | John Wright | 1794 U.S. Large Cents |

September
10
CCC Meeting - Featured Speaker - Richard Hamilton on Stock Certificates from Illinois Railroads
October
8
CCC Meeting - Featured Speaker - Robert Weinstein on Indo-Sasanian Coinage
November
12
CCC Meeting - Club Auction - no featured speaker
December
10
CCC Meeting - Annual Banquet - Featured Speaker to be announced
---
Birthday and Year Joined
October
13
Bernard L. Schwartz
1986
October
14
Joel J. Reznick
1981
October
14
Warren G. Schultz
October
17
Margo Russell
---
Chatter Matter
All correspondence pertaining to Club matters should be addressed to the Secretary and mailed to:

CHICAGO COIN CLUB
P.O. Box 2301
CHICAGO, IL 60690
Visit Our Web Site
http://www.ChicagoCoinClub.org/
Contacting Your Editor
Paul R. Hybert
prhybert@worldnet.att.net
Club Officers
Mark Wieclaw
- President
Robert Feiler
- First Vice President
Jeff Rosinia
- Second Vice President
Directors:
Lyle Daly
Mike Metras
Steve Zitowsky
Carl Wolf
Other positions held are:
Robert Weinstein
- Secretary
Steve Zitowsky
- Treasurer
Paul Hybert
- Chatter Editor
Phil Carrigan
- Archivist