Chatter
archive also available
---
Chicago Coin Club
Volume 46 No. 12
December 2000
---
---
Minutes of the 982nd Meeting
The 982nd meeting of the Chicago Coin Club was called to order on November 8, 2000 at 7PM by president Carl Wolf. The October minutes were approved and the September minutes were approved as published in the Chatter. The Treasurer's report was the same as given at the September meeting. There were two guests for the evening: John Schreiner from Valporaiso, Indiana, a friend of Bill Swoger; and Annette Albritton from Lansing, Illinois, a friend of Mike Williams.
Under old business, Jeff Rosinia spoke about the holiday banquet next month on December 13, 2000. The dinner will be either swordfish or beef, with a cash bar. Cost is $35.00 per person.
Nominations of officers for the upcoming year are as follows:
President - Carl Wolf
First VP - Robert Feiler
Second VP - Donald Dool
Director - William Burd
Director - Jeff Rosinia
Director - William Bierly
Archivist - Phil Carrigan
Immediate past president - Mark Wieclaw
Bob Feiler will make the exhibit awards presentations at the December meeting.
The program for the holiday banquet will be on Love Tokens, run by Carl Wolf and Steve Zitowsky, with members requested to bring their own love tokens from their own individual collections.
Regarding the safe deposit box at Bank One, Joe Tomasko has turned in two keys to the box. The existing records for the box had apparently been discarded. New signers for the box will be determined at a later date.
For new business, a moment of silence was observed for Chuck Swanson who passed away in September. For the CICF 2001 souvenir sheet, a proposal was passed to purchase 300 chips of black obsidian, which is volcanic glass, for $100.00. Bob Leonard will prepare the text for the souvenir sheet. The club voted to endorse member John Wilson as president of the ANA for 2001. Another proposal was passed to contribute $100.00 to the Pioneer Memorial Foundation, which is in the process of erecting a bronze statue by Trygve Rovelstad, who designed the Elgin, Illinois Centennial Commemorative and the Chicago Coin Club 50th Anniversary medal.
At the conclusion of this business portion of the meeting, member Chet Poderski took over as auctioneer for the annual November club auction. There were 93 lots altogether, with 80 lots sold. The club realized a donation of $18.00 from lots 400 and 401 which sold for $15.00 and $3.00, respectively.
Meeting adjourned after the auction at 9:25 PM.
Respectfully Submitted,
Richard Hamilton
Secretary-Treasurer
---
Auction Results
November 8, 2000
101
passed
102
passed
103
$160.00
104
42.00
105
105.00
106
75.00
107
50.00
151
passed
152
passed
153
14.00
154
passed
155
passed
156
passed
157
passed
158
passed
171
passed
201
3.00
202
2.00
203
2.00
204
2.00
205
2.00
206
5.00
207
passed

208
$3.00
209
3.00
210
1.00
211
2.00
212
5.00
213
1.00
214
2.00
215
2.00
216
2.00
217
2.00
301
80.00
302
100.00
303
100.00
304
35.00
305
260.00
306
25.00
307
25.00
308
50.00
309
45.00
310
20.00
311
10.00
312
30.00
313
10.00

| | |
| --- | --- |
| 314 | $10.00 |
| 315 | 10.00 |
| 316 | 25.00 |
| 317 | 140.00 |
| 318 | 10.00 |
| 319 | 10.00 |
| 320 | 7.00 |
| 321 | 10.00 |
| 322 | 7.00 |
| 323 | 50.00 |
| 324 | 25.00 |
| 325 | 100.00 |
| 326 | 70.00 |
| 327 | 25.00 |
| 328 | 10.00 |
| 329 | 6.00 |
| 330 | 5.00 |
| 331 | 5.00 |
| 332 | 10.00 |
| 333 | 10.00 |
| 334 | 30.00 |
| 335 | 40.00 |
| 336 | 18.00 |
| 337 | 25.00 |

338
$10.00
339
2.00
340
1.00
341
45.00
342
10.00
343
20.00
344
7.00
345
5.00
346
35.00
347
10.00
348
3.00
349
10.00
350
5.00
351
16.00
352
10.00
353
14.00
354
5.00
400
15.00
401
3.00
402
1.00
403
1.00
404
passed
405
passed
(Club donation = $18.00)
---
In Memory
Alwyn Charles Swanson
Alwyn Charles Swanson, better known to us as Chuck, died on September 25, 2000 from a severe case of pneumonia at the age of 70.
Chuck was born on April 2, 1930. He served in the U.S. Navy during the Korean conflict. He spent some time in Montana where he belonged to the Butte, Montana Coin Club. He later moved to Chicago and worked at the Swedish Covenant Hospital. He held an administrative position in the Collections Department where he remained for over 20 years. He retired from that position in 1994.
Chuck joined the Chicago Coin Club in May of 1996 (#1057). He was an avid collector of U.S. coinage especially Silver Dollars. For the past several years he made weekly trips to several coin shops in the Chicago area adding to his collection.
Chuck is survived by two sons and a daughter. Also, a brother and two sisters. Services were held at the Swedish Covenant Hospital Chapel. His remains were taken to Sioux Falls, South Dakota where he received a Military Service.
William A. Burd
---
Trip Report
Sicilian Coin Collections
(C) by Mike Metras
During my four weeks in Sicily last month, I visited two fabulous coin collections. One I knew about and had on my itinerary of places to see. The other was a most pleasant surprise.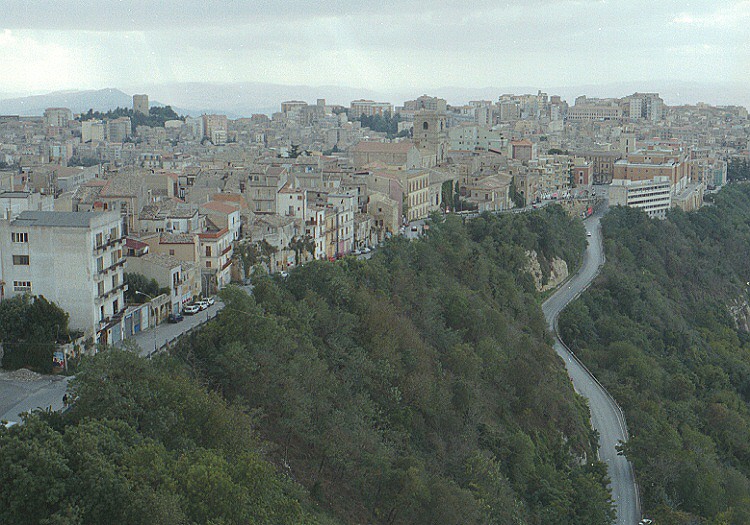 Enna
I was about two weeks into my wanderings when I arrived at the mountain-top village of Enna in the middle of Sicily. Buried among its narrow streets on a hill was its Baroque cathedral, nothing unusual in a country full of Baroque churches. But this one was different; it had a special museum. In the late 1700s and early 1800s a priest of the church, Canon Giuseppe Alessi, collected, among many other things, ancient coins. In the square next to the cathedral the Alessi Museum housed many of the items in his collection, among them his coins. What a collection!
Many large ancient coin collections concentrate on silver and gold coins. Not so with Canon Alessi, he collected the coins of the common people, the copper and bronze and brass coins.


Coins of Carthage in Enna
Ancient Sicily was made up of many Greek city states, each with its own coins. Displayed in cases in several well-lit rooms, the collection included many examples of the coins of most of these cities. Along with their own coins were many city coins issued by Rome after Rome drove the Carthaginians out of Sicily in 212 B.C. at the end of the second Punic War.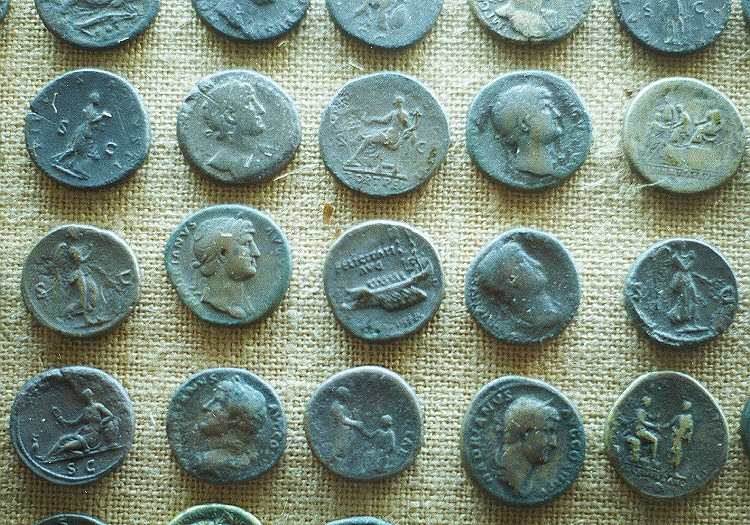 Coins of Hadrian in Enna
Next came the regular heavy As-Grave Roman copper ingot coins and the Republican silver coins. The other half of the collection was the large copper coins of the Roman emperors from Augustus in 28 B.C. through Romulus Augustus in 476 A.D., 500 years of Roman coins. Each emperor was represented by tens of large copper coins, many some of the finest examples I have ever seen. All included a short description of the emperor and his reign.
A week later I was in Syracuse, the home of Archimedes, the inventor of the pump named after him, the Archimedes screw. When he discovered how to determine the specific gravity of an object, Archimedes ran down the street naked yelling, "Eureka, eureka!" "I have found it." (He had been taking a bath when he realized that the amount of water his body displaced was a way of measuring specific gravity.) Don't tell him science isn't emotional and exciting.
Syracuse was the most powerful of the Greek cities in Sicily. It had a lot of coins. In fact few will argue with the statement that Syracuse's coins are among the most beautiful coins ever made.
By the end of the second day, I had visited the Archeological Museum. But to my disbelief, I had not seen even one coin. A woman at the tourist bureau told me that the coins were at the Archeological Museum. I told her I had seen none. She shrugged her shoulders saying she had seen them there once. I went away disgruntled; the often very helpful tourist bureau had not only failed, but failed on the most important of subjects, coins.
That evening as I studied the city map, I discovered a place identified as "Numismatic Gallery" at the corner of the cathedral square. The next day I went to that location and found the door to the "Superintendent of Properties, Culture, and Environment," not exactly coins, but the only possible candidate for the location on the map. I walked in and asked the woman at the first desk found, "Is there a numismatic gallery here?" (I figured I'd ask what a "gallery" was once I found out whether it was here.)
She pointed to a guy standing with three others in the hall and said something to him.
"Do you want to see the Numismatic Museum?" he asked.
"Yes."
"Are you the only one?" he asked somewhat put out, or incredulous.
"Si."
He got on the phone at the desk, talked for a couple minutes, came back, and told me I'd have to leave my camera and bag at the desk here downstairs. I did.
We walked down a long cavernous hall (most Italian halls are cavernous), up an echoing stairway (all Italian stairways echo), and through a very heavy steel and glass door into a room with a big, closed walk-in vault door. The room had eight or ten cases with coins, the beginning of the collections. The man who had brought me up motioned for me to begin looking. I did.
Where the Enna collection had copper coins, this one had silver and gold. The coins were laid out according to city state, each with a short comprehensive history of the city and its coinage. In two hours I saw more riches of the ancient world than you could ever guess. These were the best and most uncirculated examples of Sicilian and southern Italian coins. I only wish I could read Italian more fluently and my vocabulary was richer -- I would have learned a lot more.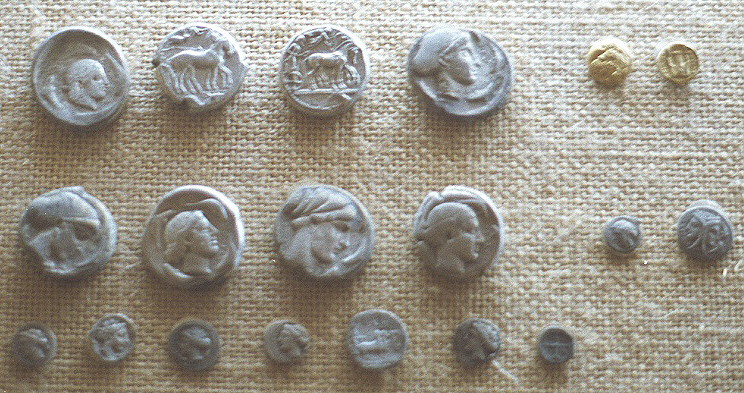 Coins of Syracuse in Enna
As I walked through seven other similar rooms of coins, many worth thousands of dollars each, there was always one person watching me and often there were two or three.
After the Greek coins there were Carthaginian and Byzantine coins. The latter included several piles of gold coins, hoards found in various locations over the years. The hoards were followed by a more or less complete run of Byzantine emperors with gold coins of every emperor, for the full 1000-year history of the empire.
And that wasn't the end, there were also gold and silver coins of the Arabs, the Normans, the Swabians, the Angevins, the Spanish, and the Italians.
At the end of the tour, I was asked to sign their guest book. I did with pleasure and left glowing praise. And unlike every other museum I visited in Sicily, I was asked no entrance fee. What an unbelievable find!
So between Enna and Syracuse, I saw the copper, silver, and gold coins from the earliest coins of the Greek colonies through Spanish Sicily.
---
Our 983rd Meeting
Date:
December 13, 2000
Time:
Hors d'oeuvres and a cash bar open at 6 PM, and dinner is served at 7 PM
Location:
The Mid-Day Club, an exclusive private club with a breathtaking skyline view from the 56th floor of the Bank One Building. Enter on either the Madison (near Dearborn) entrance or the Clark (near Dearborn) entrance. Our banquet location and coat room, however, will be closer to the Clark Street side.
Menu:
The cost per meal is $35.00 and the featured menu is a choice of Beef Tenderloin Maxium with shrimp & tomatoes with a glazed red wine sauce, or Swordfish Steak with asparagus & gulf shrimp with roasted pepper sauce. Dessert will be an almond cake with apple slices and cinnamon ice cream. Reservations with your dinner choice must be made by Friday, December 8 by calling the Banquet Chairman Jeff Rosinia at 312-336-2548. If he is not in, leave your name and number on his voice mail.
Program:
Love Tokens

Love tokens are coins that have been hand-engraved with a name(s), initials and/or dates. A hole was usually made so it could be added to a piece of jewelry and most often was a gift a man presented to the love of his life. This might be his fiancee, wife or daughter.

Love tokens probably started in England during the 1700's, but reached the peak of popularity during the Victorian Era. Most were produced on smaller silver coins like the dime, but some are found on larger silver and gold coins.

Early love tokens were probably engraved by the giver himself, but over time certain groups emerged as engraving specialists. This would be jewelers and county fair artists. A man parted from the woman he loved and with plenty of time on his hands oftentimes engraved elaborate tokens for his love. This was particularly true of soldiers waiting to be shipped out or hospitalized soldiers recuperating from wounds.

The Chicago Coin Club has secured a number of slides and examples of "Love Tokens" to present a program at the Banquet. If any member has examples to add, please bring them secured in a 2X2 or flip to show your table mates during dinner.

Members who bring "the love of their life" to share this romantic numismatic topic will be presenting them with an evening to remember.
---
Important Dates
Dec
13
CCC Meeting - Annual Banquet Meeting - Featured Speaker and other details to be announced.
Jan
10
CCC Meeting - who will be our first Featured Speaker of the 21st Century?
Feb
14
CCC Meeting - Featured Speaker - to be announced
---
Birthday and Year Joined
| | | | |
| --- | --- | --- | --- |
| January | 2 | Al Sawyer | 1999 |
| January | 16 | Michael Metras | |
| January | 18 | Denise Kitchen | 1998 |
| January | 26 | Jennie Sochon | 1982 |
---
Chatter Matter
All correspondence pertaining to Club matters should be addressed to the Secretary and mailed to:

CHICAGO COIN CLUB
P.O. Box 2301
CHICAGO, IL 60690
Visit Our Web Site
http://www.ece.iit.edu/~prh/coins/ccc.html
Contacting Your Editor
Paul Hybert
ECE Dept, IIT
3301 S. Dearborn
Chicago, IL 60616
prh@ece.iit.edu
1-312-567-3976
Club Officers
Carl Wolf
- President
Steven Zitowsky
- First Vice President
Robert Feiler
- Second Vice President
Directors:
Paul Hybert
Mike Metras
Jeff Rosinia
Mark Wieclaw
Other positions held are:
Richard Hamilton
- Secretary Treasurer
Paul Hybert
- Chatter Editor
Phil Carrigan
- Archivist
---